CARE GUIDE



All Dear Frances shoes are made in Italy by skilled artisans, following the age-old techniques and traditions used in Italian shoe production. Quality, precision and integrity are central to the Dear Frances ethos. We are passionate about our craft and the process involved, ensuring equal time and care goes into every pair of shoes we make. Emphasis is on classic design, using the finest Italian leathers and craftsmanship and infusing a sophisticated elegance. Materials range from supple kid skins, luxurious velvets, woollen fibres and suede to the more modern mesh, intricate lace and high quality lucites.
OUR GUIDE TO CARING FOR YOUR DEAR FRANCES SHOES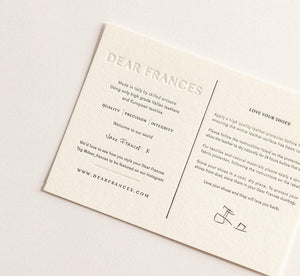 Caring for your upper and leather soles is an important part of protecting the longevity and integrity of luxury shoes. Italian made shoes, namely leather sole shoes, can last for years. However, it's important to note that it's the upper that lasts forever and leather soles must be replaced at some point. Wearing your shoes for too long on a diminished sole can cause lasting damage to high-end leather footwear. While there is no set rule for how regularly you should resole your Italian shoes (amount of wear, type of wear, water damage and stride are all factors), a variety of signs help you to know when it is time for a quick visit to your local cobbler for a resole and leather buff.
THE MAIN SIGNS THAT YOUR LEATHER SHOES ARE DUE FOR A RESOLE
I. Uneven sole wearing. Everyone walks differently and one of the joys of owning leather soled shoes is watching how your shoes evolve according to your natural movements. Something to watch out for however, is uneven wear. Although it might be interesting to learn that you are favouring the outside of your feet, this type of uneven wear can diminish leather soles over time. Once you start noticing that the wear is becoming increasingly obvious, it's time for a resole.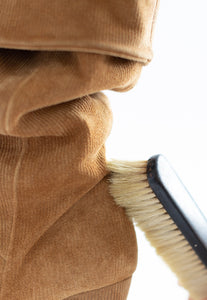 II. Sole splitting. If the upper of your shoes start to come away from the soles, then it's time for a resole. Sole splitting is caused by a variety of factors including toe scuffing, water damage and also by attempting to dry your shoes next to a direct heat source (such as a home radiator). If you have a tendency to toe scuff or you would like to wear your shoes in wet weather, watch for any signs of sole splitting and take your shoes for a resole at the first sign of this. You may also choose to have a thin rubber patch applied to the soles to help with extra protection - we advise this is best practice for any style you intend to wear in wet weather. If your leather shoes do get wet, please avoid leaving them to dry next to a direct heat source as this can compromise the construction of your shoes and lead to further damage. We recommend drying your shoes naturally, away from direct sunlight or direct heat, with soles facing up so that they can breathe and dry out completely.
III. Water damage. This may not be a large issue for shoes with rubber soles or shoes with mass produced 'leather-effect' soles however, luxury leather soles are susceptible to water damage. While getting caught in light rain once or twice isn't the end of the world, repeated exposure will effect the integrity of your soles and can irrevocably damage leather shoes. If you do get caught out in the rain, just make sure your shoes are sufficiently dry before you wear them again. Remember to dry them naturally, with soles facing upwards and away from any direct or strong heat source.

Love your shoes and they will love you back.


Dear Frances shoes are made with fine, high-quality materials, which will age beautifully over time with the right care and attention. Upon receiving your shoes, please refer to your Dear Frances care card included in the shoe box for specific care instructions. Alternatively, you can email us at info@dearfrances.com for further information about caring for your shoes.