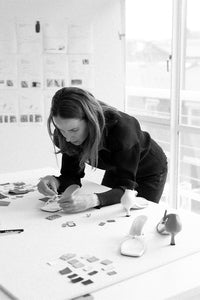 THE BRAND
Dear Frances was founded with the clear objective of offering luxury, designer classics to modern women. We focus on bringing the highest level of design and craftsmanship, while slowing the fashion cycle and leading the way for socially conscious businesses.

We work closely with our team of artisan shoemakers in Italy, utilising sustainable materials and processes to develop a new kind of luxury - a luxury that seeks to slow the fashion cycle, a luxury that focuses on craftsmanship and a luxury that helps to increase the integrity of our fashion choices.

Dear Frances has become synonymous with modern, elegant designs, offering styles to hero a classic wardrobe, most notably the now cult Spirit Boots and sculptural block heels.







OUR CORE COLLECTIOn


Our core collection focuses on the timeless wardrobe, where modern minimalism takes centre stage with sleek textures, architectural silhouettes and refined details. Strong and elegant, we find empowerment in essential shapes and tonal hues that form the basis of a classic wardrobe. We are energised by designs we can invest in now and wear forever. And we are inspired by versatile shapes that we find ourselves reaching for time and again.


DISCOVER THE CORE COLLECTION
OUR QUALITY
At Dear Frances, we want you to wear your shoes all day, every day, season after season. Each pair is hand-made in Italy using age-old techniques that have been handed down through generations of highly skilled artisan shoemakers. We source the finest quality Italian leathers and European textiles to produce modern classics, designed to last. Dear Frances shoes have been worn by Margot Robbie, Gigi & Bella Hadid, Kendal & Kylie Jenner, Kaia Gerber, Hailey Bieber, Selena Gomez, Zoe Kravitz, Emma Roberts and Sienna Miller.The brand has been featured in publications including Vogue, The New York Times, Forbes, The Wall Street Journal, InStyle, Elle Magazine, W Magazine, Business of Fashion and others.
OUR PROCESS
We work with a multi-generational artisan factory in Italy, who share the same values as us: slow the fashion cycle, celebrate craftsmanship and invest in ethical production practices. Like them, we are passionate about sourcing sustainable materials, implementing ethical production process and investing in styles that endure, which in turn helps to minimise waste and curb over-production. Watch our Making Of and enjoy going behind the scenes of our production in Italy.
THE MAKING OF: A CULT CLASSIC





OUR PHILOSOPHY
A sustainable approach for a conscious wardrobe.
"The essence of our sustainable approach is our desire to slow fashion down, by focusing on investment pieces that can be worn time and again, season after season. We strongly believe in reverting back to quality, long-lasting styles, with ethical material choices."

Jane Frances, Founder & Creative Director
















CONSCIOUS PACKAGING


All our shoes, from our mainline and seasonal collections to the Eco-Vegan collection are packaged in recycled shoe boxes made with the process residues from organic grapes, sourced locally from crops surrounding our workshops in Italy.

Our paper is FSC Certified, GMO free, contains 40% post-consumer recycled waste and is produced with EKOenergy, resulting in a 20% reduction in carbon footprint.



Shoes for self-belief
SMART WORKS
The right pair of shoes has the power to fill a woman with the self confidence to reach her fullest potential. Smart Works is a UK charity that provides dressing and interview training to unemployed women aspiring for work with the aim to fill their clients with the confidence they need to secure employment. In eight years, Smart Works has helped over 20,000 women, with 95% saying they leave their appointment feeling more confident. Dear Frances is honoured to donate samples and excess stock to Smart Works in an ongoing partnership that includes staff volunteering as well as providing new shoes for its beloved pop-up sales.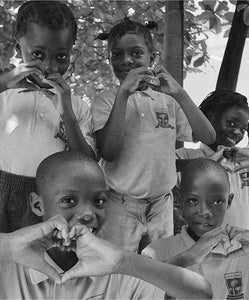 Buy a pair, give a pair
SOLES4SOULS
We believe that good shoes make you look and feel great. We also believe that everyone has the right to comfort. Over 900 million people around the world live in extreme poverty and most of those people don't have access to adequate footwear. This means that for almost 12.8% of the worlds population, walking is unbearable - children cannot attend school and adults are prevented from working. To help address this problem, we partner with non-profit organizations like Soles4Souls to ensure that for every pair of Dear Frances shoes purchased, a pair of shoes is sent to a person in need.